With the Rotary Club of Sugar House Chili Open Run fast approaching on January 31, we want to bring attention to the charities involved with the event.  The Carmen B. Pingree School for Children with Autism provides a positive atmosphere of learning for those with autism in the community.
The school is driven to help young children with autism by providing "comprehensive treatment, education and related services for children with autism and their families". Carmen B. Pingree is a woman who has a child with autism.  She had the vision in 1970 of creating a pre-school for children with autism.  This seemed like a daunting task but was one she was willing to work for.  Nearly 30 years later, funding came to expand her idea by creating the elementary school setting that now exists to support nearly 250 students.  The school is located in Salt Lake City in close proximity to the University of Utah.
Apex Behavior Consulting, one of our event sponsors, has a mission of enhancing the quality of life for people of all abilities.  They always seek to teach individuals to perform at their personal highest level by centering their efforts on positive behavior.  Children with autism are a main focus for Apex Behavior Consulting, but are not the only people for whom they provide services.  If you would like to know about who qualifies for behavior therapy, go to: http://www.apexbehavior.com/questions.html
Breanne from Apex Behavior Consulting shared the following inspiring story about AJ and RJ who bo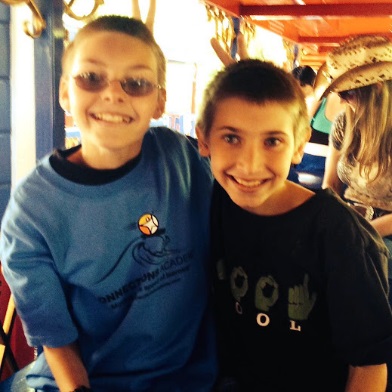 th have Autism.  Their father is an active duty US service member and their mom has significant physical and mental health issues.  When Breanne met the family in 2011, they had just returned from Guam.  The family had received no education or support with how to manage a child with Autism. With no family or friends in Utah they were in a state of crisis.  At home, both boys had regular melt downs, were generally non-compliant, and had no self-esteem.  AJ had said several times that he wanted to die.  The parents tried to manage problem behaviors through yelling, threatening, taking away preferred items, and grounding.
 Their Life Today:  The family receives 6-10 hours of ABA (Applied Behavior Analysis) Therapy per week.  AJ, RJ, and their family have become a successful family unit.  AJ and RJ attend Connexus Academy, a virtual school, where they experience academic and social success.  The parents support AJ and RJ by providing direction, consistency, and reinforcement.  Yelling virtually does not exist in their home and they speak to each other with respect.  The boys have more responsibilities such as cleaning their rooms, doing the laundry, cleaning the bathrooms, and doing the dishes!  The boys work to self-monitor their behavior and play an active role in the development of their treatment plans.  Although the family still needs support, AJ and RJ expect to live self-direct lives as contributing members of society.  ABA Therapy can truly make a positive difference in people's lives!
 At I Run Utah, we love being partnered with such organizations and we are proud to participate in events that make our community a better place for everyone.  We are excited for the Chili Open 5k and 1k races and hope to see you on January 31!  Click here to register for the race https://www.irunutah.com/race/?race=98.
Devin Davis, 801-907-0465, devin@irunutah.com