What is a healthy number of runs to do per week? Where do I start when I want to become more consistent with running? The beginning to gaining a consistent weekly run schedule is creating a plan. A plan allows you to build running into your daily schedule. Many people use the excuse of a lack of time in the day for a 30 minute run, but is that a good enough excuse?  Here at I Run Utah we say NO! There is a way to fit weekly running into your life. Add your comment below to share with us and other runners how you are able to accomplish a weekly run schedule.
Here is how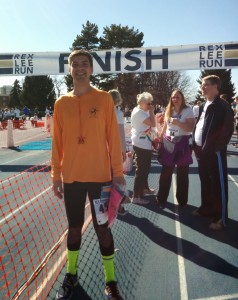 I accomplish my goal of weekly running. I am currently a student finishing up college and have set a schedule which allows me to accomplish a goal of running at least 3 times per week for up to 1 hour. I may only run for 30 minutes but if I feel really good, I will run for the entire hour. Tuesdays and Thursdays are long days for me, so I need time to release at the end of the day. I return home at approximately 4 p.m. after a day full of nonstop classes and change into my running gear. While running, it allows me to organize my thoughts and also take any worries away from school after a long day. I am able to free my mind and enjoy myself by doing something I love. In addition to these two days, I start my Saturdays with a run to have an energized mind for the busy day of chores and errands. If I have time on the other days of the week then I will go for a run because it doesn't hurt to get in another work out.
Whatever your excuse has been for not running regularly, throw it out the window! Make a plan for running weekly and stick to it, even if you are only running a mile or two each time you run. We invite you to take a picture when you go out for a run whether it be of yourself, the scenery, or something you find unique. Post your picture on Instagram and tag us @irunutah to share with us your journey and gain motivation from your friends. We will be posting pictures of a few of our runs on instagram as well so make sure to follow us. Don't forget to comment below with your Reason 2 Run and what helps you stick to a weekly running schedule because we want to know.
Devin@irunutah.com