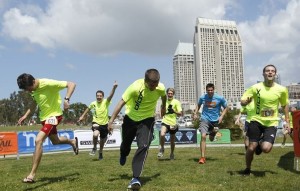 Are you the type of person who is independent and self-sufficient?  Have you ever considered how other people affect your life?  Many people find it hard to run with other people but I want to give you some reasons why you should consider running with a group or a friend for some of your runs.
Everyone likes extra motivation right?  Having another person to motivate you to go pound the pavement is a huge bonus!  If I am going for a run by myself, even if it's a planned event, I occasionally will come up with an excuse for why I shouldn't go and will end up not going for a run.  When you plan to run with a group or a friend there is a different type of obligation involved.  It is much harder to tell someone else why you need to cancel your set time to run.  This increased motivation to run will get you out more.
The social aspect of being an a group can present an opportunity to change your life.  Many of my close friends I currently have came through running with other friends.  These relationships have built past the barriers of just running.  I have seen my family and work life change solely from these new and lasting relationships I built because of running.
Last is the competition that comes from running in a group or with a friend.  Usually when you run with others you want to find people who run at a similar pace as you.  This allows everyone on the run to enjoy the run.  The ability to push each other to be better is highly prevalent when you run with others of similar capabilities .  You can push the other to go faster, go further, and overall improve in running statistics.  We want you to follow us on Instagram @irunutah and Facebook to share your experiences when you run in a group.  We will sometimes post about when and where we will be running and invite you to do the same on our page so you can connect more with the I Run Utah community!
Devin@irunutah.com